It is interesting to see BurgerFuel are taking on the USA. The little Kiwi burger company (if now 10% owned by Subway) are taking burgers to the land of burgers, which may raise the question: Why?
I was going to write about that when I remembered an unsolicited review of BurgerFuel, by an American, I saw back in April which explains it better than I ever could.
George (Geo) Hrab, musician and podcaster extraordinaire, of the Geologic (nothing to do with rocks) Skeptic Podcast wrote this in an email to his Geologists (financial supporters of his podcast).
I'm a long time listener to the podcast, first saw Geo perform live at TAMOZ in 2010 (below) and again when he visited Auckland in 2014 for the NZ Skeptics Conference.
This extract, reproduced with his permission, is why the USA needs BurgerFuel:
Greetings Geologists
"The best burger I ever ate was at four in the afternoon on a Thursday in Auckland, New Zealand at a place called "Burger Fuel." This burger was called "The Bastard," and I have extolled its virtue and cow-numbing yumminess a number of times on the podcast and at live shows.
This particular "Bastard" had (along with its prerequisite 1/3 pound burger patty) an insanely thick slice of what passes for "bacon" in a former English colonial island in the South Pacific ocean, dashes of sliced lettuce and tomato, and a profoundly delicious and secret ingredient: a few generous discs of pickled beet root.
The consumption of this entire contraption was assisted by an ingenious device called a "wallet" which was in essence a cardboard pocket/holder that allowed the burger to be eaten one-handed without its contents gushing out like the innards of a disgraced Samurai invoking seppuku.
It is not stretching the truth by any acceptable journalistic standard to say that the ingesting of this particular bunned apparatus was as close to a religious experience as anyone who has James Randi's phone number on speed dial can have. This was so fucking succulent that I literally have a photo of this burger on the wall of my living room.
Seriously.
Which begs the question:
Was this burger so ketchup-poundingly delicious because it just WAS so delicious— or was its perceived scrumptiousness due to the circumstances surrounding its eating?
For the duration of my Australia and New Zealand "Styrofoam Tour, " my schedule was so crazy and haphazard that I barely knew where I was half the time before I was gone from where I was the other half of the time. There's no error in that sentence it's just how my brain felt. I had completed Australian shows in Sydney, Brisbane, and Melbourne; had flown to Kiwi Central for a show in Christchurch— and by the time I landed in Auckland had probably not eaten in almost two days.
I checked into my hotel and quickly and purposefully went on a quest to find some kind of meal that could be thought of as semi-local but still gastronomically recognizable. Stumbling into "Burger Fuel" I ordered "The Bastard" and the rest is Geologic Headquarters interior decorating history. NOW— was this meal so decidedly delicious because I had not eaten in two days and was in freakin' New Zealand, or was the culinary expertise of the staff at Burger Fuel above and beyond that of any other crew that had ever previously prepared a beef sandwich for your narrator's particular face hole?
Not sure. And yes.
Perhaps the greater question therefore is: How much do the conditions surrounding an event influence the perceived caliber of that event? Can a poorly executed THING be seen as better than it truly is because the encompassing island of experience is perfectly formulated so as to aid in the perception of quality? And is the opposite true as well? Can negative stuff surrounding a THING make it seem like that THING is shittier than it actually is?
The obvious answer is "of course, you dummy" but the less obvious answer is "well it depends, you dummy.""
"Maybe the thing to remember then is this— in the same way that Heraclitus said you can't step into the same river twice, it's impossible to ever really completely re-experience something. This is not to say that it's pointless to have favorites, but that it's important to understand that each experience exists in and of itself, is composed of way more than just its intrinsic nature, and that trying to recreate "the best" or avoid "the worst" is ultimately fruitless.
That being said, a few years after my "Bastard" I was lucky enough to be back in New Zealand and decided to tempt fate and try another one.
IT WAS JUST AS INCREDIBLE. Gaaaaaa….[drool]
Bon appetit, and until the next one I remain,
-Geo"
The Bastard – in BurgerFuel's own words (and their photo)
(from http://www.burgerfuel.com/us/our-food/burgers/gourmet-beef/the-bastard)
Like a fine single malt whiskey, every now and then we have to put a "The" in front of it- and it takes certain qualities to take a guy like this down because if you're not ready, it's like a punch in the face with a fistful of flavour.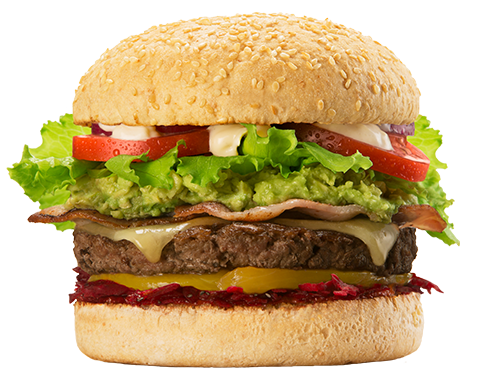 This is not a burger to take Holly-go-lightly and it's certainly not for your faint-hearted, breakfast epiphanies (as inspirational as they may be). This is the real deal burger of the completely audacious variety and if you feel a little nervous; you're not alone. The BurgerFuel Bastard contains 100% pure grass fed NZ beef goodness, 'smashed juicy' fresh to order, with juicy-juicy mango slivers, tasty bacon, raw grated beetroot with chia seeds, natural, melted cheddar, fresh free range BurgerFuel Aioli, smashed avocado, batch-made sweet tomato relish and handmade salad.
Ingredients = many, good times = plenty.
The Bastard - 100% pure grass fed NZ beef, 'smashed juicy' for the ultimate hardcore burger fix.
Disclosure
I, like Geo, have no financial connection with BurgerFuel except occasionally give them money—in return for burgers—and eat Bastards because they are bloody brilliant.